Die-Cutting Services
Speed up your patchwork and applique projects by taking advantage of our fabric die cutting services! Get a perfect cut every time, and spend less time on cutting and have more time for sewing. Die cutting is $1 per pass on the die cutter. Small quantities can be cut on the spot; please
contact us
to schedule larger cutting jobs. For online orders, please include the following information for each fabric:
which fabric & colorway from your order you wish to have cut
which die shape you'd like
how many final shapes you'd like
We have a range of available dies. Don't see a shape you'd like? Let us know!
Geometric Shapes & Blocks
Circles:
2", 3", 4", and 5" diameter circles
cuts one circle per layer of fabric at a time
5 1/2" diameter circle
cuts one circle per layer of fabric at a time
5 1/2" diameter circle
cuts two circles per layer of fabric at a time
Squares:

cuts 5" square (4 1/2" finished)
cuts 8 squares per layer of fabric at a time
cuts 5" square (4 1/2" finished) with pinked edges
cuts 4 squares per layer of fabric at a time
cuts 10" square (9 1/2" finished)
cuts 2 squares per layer of fabric at a time
cuts 6 1/2" square (6" finished)
cuts 4 squares per layer of fabric at a time
cuts 3 1/2" square (3" finished)
cuts 6 squares per layer of fabric at a time
Rectangles:

cuts 3 1/2" x 6 1/2" (3" x 6" finished)
cuts 4 rectangles per layer of fabric at a time
Take 5 Block:
cuts small square 4 1/2"W x 4 1/2"H (4" finished), rectangle 4 1/2"W x 8 1/2"H (4"W x 8"W finished), and large square 8 1/2"W x 8 1/2"H (8" finished)
piece all 5 components to assemble a 12" finished block
cuts 3 small squares, 1 rectangle, and 1 large square per layer of fabric at a time
Hexagons:

cuts fabric hexagons with 1" sides (3/4" sides finished) and corresponding paper templates
cuts 5 hexagons per layer of fabric at a time
cuts fabric hexagons with 2" sides (1 3/4" sides finished) and corresponding paper templates
cuts 3 hexagons per layer of fabric at a time
cuts hexagons in a range of sizes: from 1" to 7" finished sides
can be used to cut solid hexagons or hexagon "rings"
cuts 1 hexagon per layer of fabric at a time
Triangles:

Half Square Triangles:

cuts 3" triangles (2 1/2" finished)
cuts 1 HST per layer of fabric at a time
cuts 4 1/2" triangles (4" finished)
cuts 4 HST per layer of fabric at a time
cuts 5 1/2" triangles (5" finished)
cuts 1 HST per layer of fabric at a time
cuts 6 1/2" triangles (6" finished)
cuts 4 HST per layer of fabric at a time
cuts 3 1/2" triangles (3" finished)
cuts 6 HST per layer of fabric at a time
cuts 8 1/2" triangles (8" finished)
cuts 4 HST per layer of fabric at a time
Quarter Square Triangles: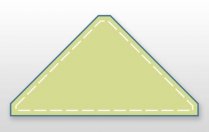 cuts

8 1/2" x 4 1/2"

quarter square triangles (8" x 4" finished)
cuts 4 triangles per layer of fabric at a time
cuts 6 1/2" QSTs (6" finished)
cuts 3 QSTs per layer of fabric at a time
cuts 8 1/2" QSTs (8" finished)
cuts 4 QSTs per layer of fabric at a time
Triangles in Square:
cuts 2 1/16"W x 3 1/2"H triangles or 3 1/2"W x 3 1/2"H triangles; both triangle pairs finish in a 3" square
cuts 4 triangles per layer of fabric at a time
Equilateral Triangles:

cuts triangles in a range of sizes: from 1" to 7" finished sides
triangles are compatible with the 1" - 7" finishes side hexagon dies
cuts 1 triangle per layer of fabric at a time
cuts triangles that are 4 5/8"W x 4"H with 4 5/8" sides (finished size:

4 1/8"W x 3 1/2"H)

cuts 10 triangles per layer of fabric at a time
Isosceles Triangles:
Pinked Pennant:
cuts a pennant shape with pinked edges 9"W x 7 1/2"H
cuts one pennant triangle per layer of fabric at a time
Parallelograms:
cuts a 3 3/16"W x 4 1/4"H (

2 11/16"W x 3 3/4"H finished) parallelogram

cuts one parallelogram per layer of fabric at a time
cuts 3 11/16" x 4 15/16" parallelograms (3" x 4 1/4" finished)
cuts 4 parallelograms per layer of fabric at a time
Classic Shapes & Blocks

Rob Peter to Pay Paul:

cuts 2 shapes: 2 3/8" x 8 1/2" and

8 1/8" x 8 1/8" for a 7" finished block

cuts 2 petal shapes and one center piece per layer of fabric at a time
Double Wedding Ring:
cuts 6 shapes, 12 1/2" finished block
each die run separately per layer of fabric at a time
Tumblers:
cuts 3 5/8"W x 3 1/2"H tumbler shapes
cuts up to 8 tumblers per layer of fabric at a time
cuts 6 1/2"W x 6 1/2"H
cuts up to 4 tumblers per layer of fabric at a time
Hunter Star:

6" finished, completes a 12" finished block
cuts 4 pieces per layer of fabric at a time
Winding Ways:

completes an 8" finished square
cuts 4 pieces per layer of fabric at a time
Apple Core:
cuts 5 3/8"W x 7 1/16"H apple core shapes
cuts up to 4 shapes per layer of fabric at a time
Drunkard's Path:
cuts A Shape 4"W x 4"H and B Shape 3"W x 3"H
creates a 3 1/2" finished square and 7" finished block
cuts 4 each A Shape and B Shape per layer of fabric at a time
Pineapple:

cuts 13 pieces to complete a pineapple block, 12" finished
cuts 13 pieces per layer of fabric at a time (one die)
Specialty Shapes
Scalloped Edge Circle
cuts 6 1/4" diameter circle with scalloped edges
cuts 1 shape per layer of fabric at a time
Edge Treatments
Prairie Points:
cuts 20 - 1" prairie points
cuts 8 - 2" prairie points
Applique Shapes
Six-Point Stars:
cuts stars 1 7/8"W x 2 3/16"H
cuts 11 stars per layer of fabric at a time
Orange Peel:

cuts orange peel shape 4 1/2" (4" finished)
cuts 1 shape per layer of fabric at a time
Pumpkin:

cuts large pumpkin 4 3⁄4"W x 4 5⁄16"H
cuts one pumpkin per layer of fabric at a time
Hearts:
Monkey:
cuts 3 13/16"W x 4 7/16"H
cuts one monkey shape per layer of fabric at a time
Cat:
cuts 3 9/16"W x 5 1/8"H
cuts one cat shape per layer of fabric at a time
Dala Horse:

cuts 7"H by 7 1/4"W
cuts one horse shape per layer of fabric at a time
Winter Shapes:
cuts a snowflake 4 1/2"W x 5"H, a mitten 3 3/8"W x 5"H, a tree 4 1/4"W x 4 3/4"H, a snowman 4 1/8"W x 4 7/8"H, or a hat 1 7/8"W x 1 3/16"W
cuts one shape per layer of fabric at a time
Project Dies

Tote bag:

cuts a tote bag with bottom gusset
finished tote is 9" x 11"
used a 2 1/2" strip for bag handles
cuts one shape per layer of fabric at a time